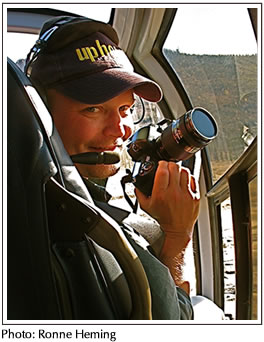 Terry has spent the past 20 years photographing in Canada's Northwest Territories and Rocky Mountains, specializing in wildlife and tourism images.
In the early 1990's he began travelling in the north with Nahanni River Adventures, a raft and canoe company photographing for their multi media presentations. Terry and owner Neil Hartling would later release the book Alaska to Nunavut: The Great Rivers featuring ten spectacular rivers. Around this time he began working over several summers with the NWT Tourism Board shooting around the territory on contract.

Terry's work has appeared in several national and international publications including over 60 magazine covers. Books, calendars, postcards, greeting cards and posters have also featured his work.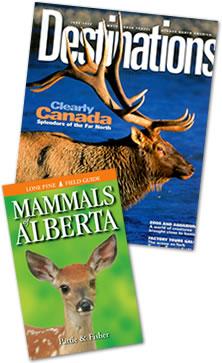 His extensive experience in the field, as well as being an accomplished naturalist has earned him recognition as one of Canada's leading outdoor photographers.
Terry has a sincere commitment to preservation of wild places. Through his work he aims to present wildlife and wilderness in an intimate manner never seen before. By showcasing Canada's natural wonders to the world, he hopes that his images will "inspire the viewers to seek protection of wilderness areas." After a three year stint at documenting wildlife on video he has returned to shooting stills again and loves the freedom of digital.

Terry makes his home in beautiful Fernie, BC were he puts his camera down over the winters to work at Fernie Alpine Resort as an instructor/coach on the Non Stop ski program. He is a certified Level 3 instructor and Level 1 Coach.

Terry would like to thank these fine companies for their support through their Pro Programs: Nikon, Patagonia, Helly Hansen and Nordica.